Published 17 Jun 2023
The 10 Best Working From Home Jobs That Will Earn You a Living (2023)
---
Working from home jobs are rapidly becoming the norm all over the world. The COVID-19 pandemic has left a distinct mark on workplaces, with people realising productivity can happen outside of the office and technology can connect us, no matter where we are. 
New Zealand was no exception. During the Level-3 lockdown in 2020, many workers found themselves thriving in home offices. Having zero travel time and saving money on lunches were great perks. Plus, a University of Otago study found that 73% of people were equally or more productive at home. This left 89% of workers keen to continue working from home at least part-time following the lockdown. 
But a year on, almost all of those workers have returned to their workplaces. Organisations haven't embraced the flexible work arrangements despite the fact that for many people, it's still a dream to work from home.
There are opportunities to make that dream a reality. 
Online jobs still exist in New Zealand, and you can make a substantial salary in these roles. If you've got the right qualifications and are willing to hone your skills, you can perform any of these jobs from home.
10 legitimate work from home jobs in NZ

---
Find out about the skills and qualifications that will help you succeed in each of these work from home jobs.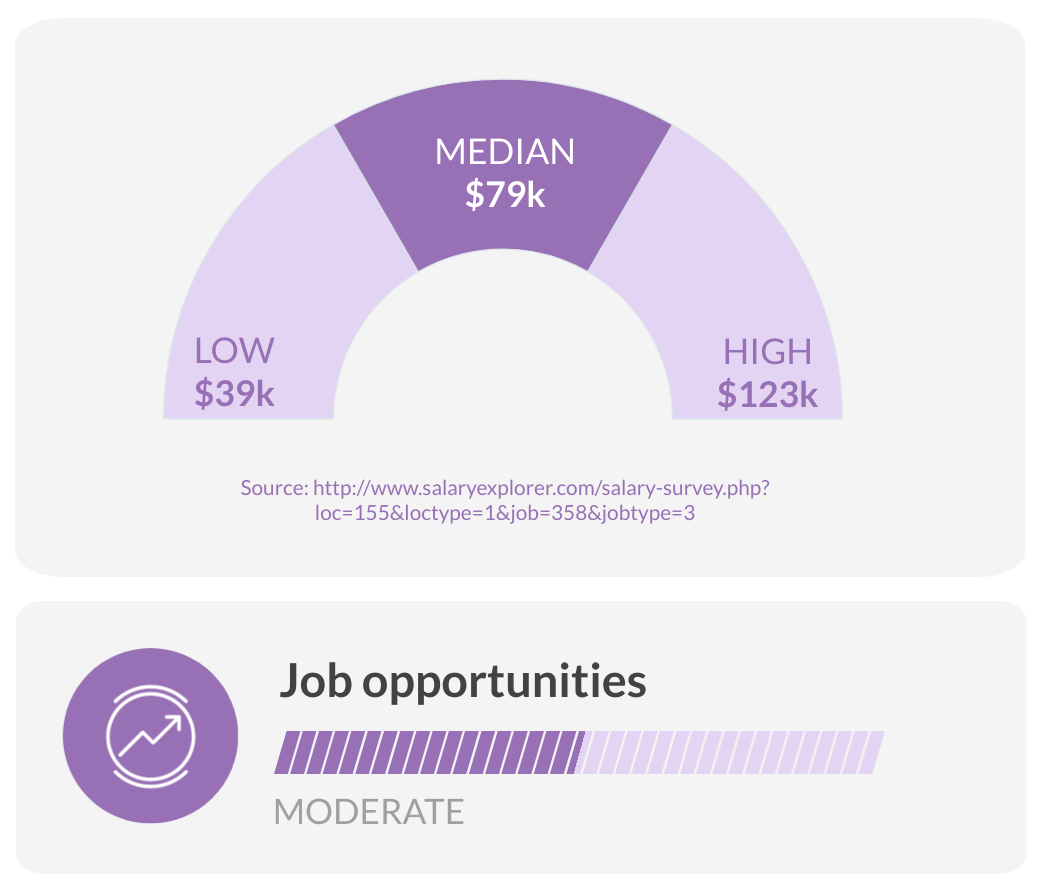 ---
Beauty therapists are the dedicated professionals who work to make their clients feel like the best version of themselves. Beauty therapy is a booming industry — and not just because people are happy to spend a lot of time and money on their appearance. The services beauty therapists provide can make people feel confident, happy and less stressed. With such amazing mental wellbeing benefits, it's no wonder these skilled professionals are in demand.
The field of beauty therapy is extremely broad, with a lot of niches to specialise in. Jobs like lach technician, nail technician, and makeup artist are a few examples of specialisations. It's a smart idea to pick a specialisation you're really passionate about, hone your skills in that area and create a client base for that service. This is because you'll become an expert in that area, and will eventually be able to charge a premium for your services.
Over time you may want to expand on the services you offer, just keep in mind that you might need to obtain more qualifications to start practicing in other areas of beauty therapy.
Some other services beauty therapists can provide include:
Facials

Massage

Body treatments

Hair removal

Cosmetics or skin products advice
The majority of these services can be performed from your home as long as you have good tools, the right training and an appropriate home environment. It's also important to ensure that you keep your house extremely clean, as proper hygiene is an essential part of working in beauty therapy.
---
2. Online teacher / tutor

---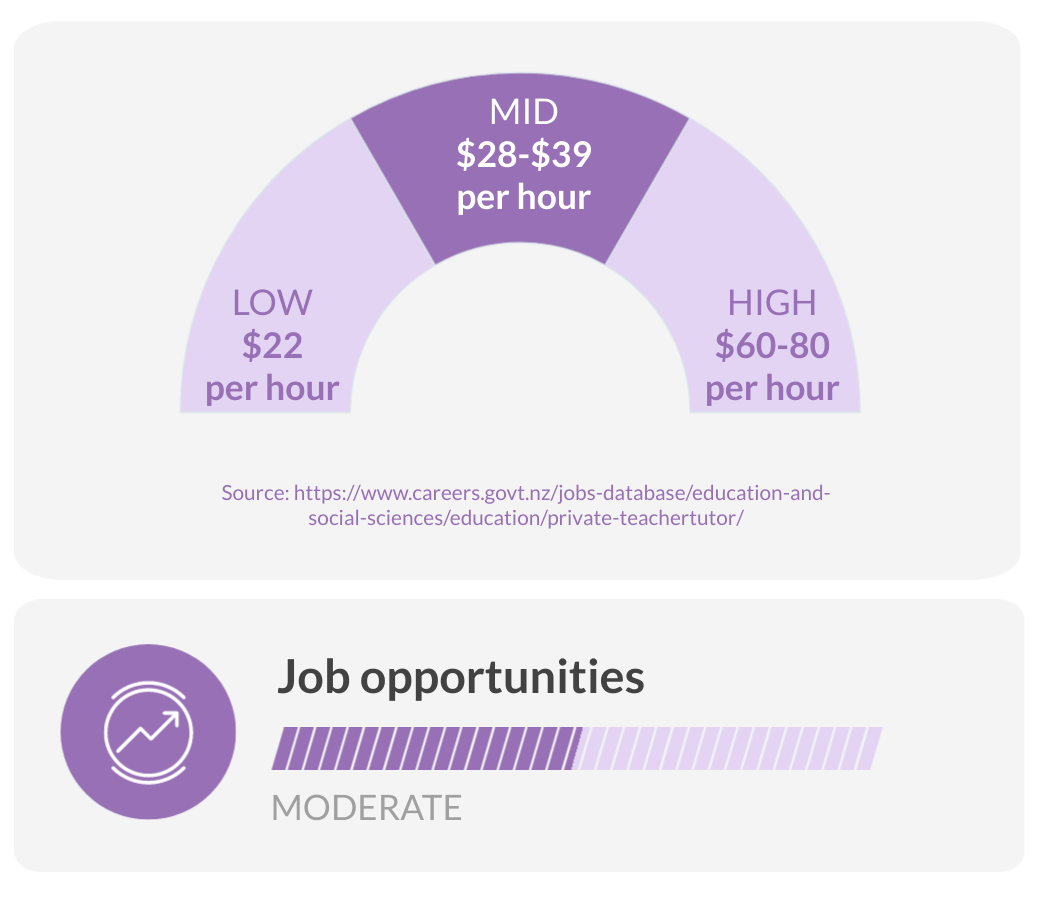 TEFL, TESOL, or CELTA Certificate
---
Bachelor of Teaching
(Level 7)
---
Extensive experience in the subject you want to teach
---
After the COVID-19 pandemic forced schooling online, a world of opportunity opened for online teaching and tutoring. Online teaching was already a small field of the education industry which primarily catered to overseas students, teaching English and other subjects. Since the convenience of online learning has been felt within New Zealand's shores, a multitude of ways to teach or tutor students online have come to light. 
Different ways to teach online:
Sign up to teach on a teaching platform



Skillshare and Udemy are examples of online teaching platforms where you can sell your expertise to eager learners. On these platforms you won't have to put as much effort into marketing yourself or your course, and all the technology you'll need to get started will already be integrated into the platform.

Create your own teaching site



Creating your own teaching site on a website-builder gives you complete autonomy over what you teach, how you teach it and how much you charge. Marketing your courses might take more effort, but if you already have a following, this is a great way to keep those people engaged.

Work for an agency



Joining a local teaching or tutoring agency takes all the guesswork out of teaching online. They'll likely supply you with lesson plans, they'll market you, and you'll also have networking opportunities with other teachers. You likely won't be able to choose your own hours if you work for an agency, but you can be sure work will come your way.
Online teachers need to be great communicators, patient and extremely organised — a variety of education courses can help you develop these skills. If you take the time to hone them and can think of a subject you have a lot of expertise in, you'll make a great online teacher.
---
---
Digital marketing is an exciting field, and the roles within it are in high demand. Digital marketers work to connect brands with the right audience through online platforms and digital communication. Because there are so many ways to communicate and interact with digital media, there are a wide range of digital marketing specialisations:
Search engine optimisation (SEO)

Content marketing

Social media marketing

Email marketing

Affiliate marketing

Pay-per-click (PPC) marketing

Native advertising

Marketing automation
Each of these specialisations uses different skills and suits different passions. For example, if you love working with software, marketing automation would be a great niche for you. If you enjoy writing and creating, content marketing would suit you perfectly. In any of these roles you'll find yourself employing general marketing skills, data analysis skills and critical thinking. 
Because these roles are centred around the digital world, a lot of digital marketers are able to work from home. You'll perform the majority of your work on a computer, which means you could also freelance if you prefer working for yourself. There are a lot of opportunities to grow in this field, and career progression can happen quickly.
If you love communications and working in the digital world, digital marketing would be a great career for you.
---
---
Social media management is a specialisation within the digital marketing field. Social media managers connect brands with the right audiences and develop strategies to engage people. They create and distribute content across a variety of social media platforms. The content they make needs to be tailored to audience data, and inspire people to feel, think and act. 
It's a highly creative job, and everyday is full of variety. As a social media manager, you'll be responsible for:
Creating a social media strategy and keeping it up to date

Selecting a target audience and analysing their data so you can target them in campaigns

Choosing the social media platforms your brand needs to be active on to reach your target audience

Coming up with the design for the social media profiles and maintaining consistency

Developing social media ads

Building a content calendar

Creating platform-specific content in line with the brand style

Monitoring and responding to social media comments and conversations

Growing the brand's following across social media platforms

Reporting on social media performance 
Since this job is performed pretty much entirely online, working from home is a no-brainer. If you decide to work in-house for a brand, you'll find there are a lot of career progression opportunities. There are also many opportunities to work as a freelance social media manager, choosing your own hours and work.
To succeed in this role you'll need technical skills in social media management, great communication skills, a love of social media and a creative mind.
---
---
There are no qualifications required to start a job in data entry.
---
---
Work from home data entry in NZ is a career that rarely requires previous experience. In fact, with a few skills in using data processing software you can get started in a data entry role very easily.
Data entry professionals are detail-oriented people who enter information into databases or documentation platforms. They work with a variety of datasets, and might even transcribe interviews, recordings, meetings or phone calls. This makes data entry a great choice if you're looking for online typing jobs working from home.  
Working in data entry, you'll handle electronic and/or raw data, edit it in line with requirements, and upload it to the necessary platforms. Data entry is needed in a range of industries and organisational departments, like finance and marketing. Depending on where you work, you'll have set responsibilities. These might include:
Maintaining databases by editing and updating information

Establishing a system for inputting and updating data

Reviewing data and resolving problems or discrepancies

Merging data from different platforms or databases

Handling raw data (like meeting minutes) and entering in into the right electronic databases
To succeed in a work from home data entry role, you'll need to have the right technical skills. Some skills you might already have that will help you thrive in the role include a keen eye for detail, time management and organisational skills, self-motivation and good communication skills.
---
---
In this highly skilled career, web designers create and build websites and web pages. They style interfaces in line with the website brand, while using skills in UI and UX to create pages that users can easily navigate and are engaged by. Web design is a creative career that's all about designing aesthetic and useful pages. 
Web design doesn't generally include knowledge of how to code, as that responsibility lies with the web developer. But along with an arsenal of technical web design skills, it can be useful to have some entry-level skills in coding in this role. The main responsibilities of a web designer include:
Conceptualising website ideas for a brand/client in line with a brief or brand identity

Designing the website or web pages in a way that's aesthetically pleasing and easy to use

Continuously testing and improving the design of web pages to ensure users enjoy the site

Working closely with web developers to ensure the designs are built in line with your vision

Designing other visual imagery for websites

Developing a brand style guide and establishing design guidelines
There's a lot of variety in this creative career. One day you might be designing, the next you might be testing the user experience or presenting a design concept to a client. 
There's a lot of in-house and freelance work for web designers. If you freelance, you'll have more opportunities to work from home (or whatever location you'd like). Freelancing lends itself better to experienced web designers who can work independently. If you're looking for an entry-level role, it's a good idea to start in-house or in an agency at an organisation that offers remote or flexible work. That way you can benefit from the mentorship of senior web designers while you hone your skills. 
---
---
Web development is a highly creative and technical career. These professionals create and maintain websites and web pages, and can work either on the back-end, front-end, or both (a position called "full-stack"). 
Web developers work with code to develop the look and functionality of websites. They rarely need to have graphic design skills as well, because that responsibility normally lies with the web designer. Having design skills can give you an advantage in this role though, so if you're a creative person it's worth honing both sides.
There's heaps of variety in this field. You could work for any kind of website that interests you — e-commerce, gaming, news sites, and online portfolios are a few examples. Along with the programming aspect of the role, web developers also handle the technical aspects of a website, monitoring performance (website speed) and capacity (the amount of traffic the site can handle at once). 
As a web developer, some of your responsibilities might include:
Discussing website design and development with clients and stakeholders, guiding the direction of what's achievable from a development perspective.

Coding the site using programming languages (HTML, CSS, and so on)

Testing the functionality of websites and pages and deploying them once they pass testing.

Working with designers to determine the elements of the site that need to be developed, and how they should look and function.

Continuously troubleshooting to ensure the website functions smoothly, fixing bugs and adapting elements in line with what users need.
Many technical skills are required to succeed in this position, especially if you intend to work from home. It's a role that can definitely be performed from home because a lot of it is done on a computer. Demand is high, so if you're a good communicator and have the right qualifications, you'll easily be able to find a remote web developer role.
---
8. Freelance photographer

---
---
Practical experience and a portfolio
---
---
Photographers are the creatives that express a visual story through the lens of the camera. It's both a highly-regarded art-form and a functional service for a variety of people and events. No matter your passion, there's a field of photography that will appeal to you. Specialisations include:
Wedding photography

Newborn photography

Portrait photography

Fashion photography

Real estate photography

Travel photography

Landscape photography

Photojournalism

Architecture photography

Food photography

Sports photography
Freelance photography is a large part of the photography industry. A lot of people decide to go out on their own to pursue the kind of photography they're passionate about. You also get to choose your own hours, and you'll be able to perform a lot of your responsibilities from the comfort of your home. When you're actually on a shoot, you might be required to travel to a venue or location. But all the image development and editing can be done at home.
As a photographer you'll need to develop a set of technical photography skills. These can be learned in photography courses. You might also want to gain skills in self-promotion so you can market yourself — especially if you become a freelance photographer. Other skills that will help you succeed include self-motivation, organisation and time-management, and an eye for detail. 
---
---
Bookkeeping is one of the best professions to have if you want to work from home. These professionals manage a business's financial records and keep their finger on the pulse of their financial health. Bookkeepers can also provide insight into current or impending financial problems, and some might even advise business owners when it comes to strategic financial decisions.  
On a daily basis, bookkeepers have some set responsibilities: 
Data entry 

Expense tracking 

Invoicing and receipt management

Payroll processing

Banking

Compliance

Financial reporting
To become a qualified bookkeeper you'll need to undertake a bookkeeping qualification and register your membership with NZQBA. You'll be able to either join an agency or work for yourself — just keep in mind that you'll also need to promote your services and find your own clients.
To succeed in this role you'll need to have the right qualifications and technical skills. It's also important to be a great communicator, love working with numbers and data, and be a detail-oriented person.
---
Will you succeed in a work from home job?
Before launching yourself into a job working from home, it's important to consider whether it's for you. Working from home is a pretty different way of working compared to being in a workplace, and you'll need a different set of soft skills to thrive in this environment.
You'll need a substantial amount of discipline, a strong work ethic, and a suitable home set-up to ensure you can complete your work effectively (and ideally, without distractions). 
Ask yourself, do you have an appropriate home environment to ensure you can complete work in? How are you going to ensure you maintain a healthy work/life balance? Below is a list of skills you can use to judge whether working from home is the right fit for you.
If you can check off these things, you've definitely got what you need to succeed working from home. Finally, you need to think about whether you'll enjoy it!
---
Do you enjoy:
Working independently

Using technology

Working under strict deadlines and time crunches

Using your strong communication skills

Working flexible hours (including night time and weekends)

Having low or no travel time

Being able to control the environment you work in (e.g. play music, or turn on the AC)
---
We're witnessing a surge in the telecommuting industry right now because smart devices and internet connections are more available and affordable than ever. Work has become something we do, not somewhere we go, and our office is anywhere we happen to be.
If this sounds like the career path for you and you're ready to take the next step towards your dream work from home job, you can explore study options relevant to your field of choice on Training.co.nz. 
If you want a hand choosing the right course, a Training.co.nz course advisor can give you advice. Just click 'Enquire' on the course you're interested in and someone will be in touch to discuss your options.