Published 28 Oct 2020
How to Get a Data Entry Job From Home: 5 Simple Steps
---
With work from home jobs more popular than ever, we take a look at how to start your career as a remote data entry clerk.
---
Browse Admin Courses
Much more thought is being put into career path choices this year. With some industries seemingly more vulnerable than others, many have sought safer options when it comes to their employment. As the year goes on, more and more people are looking at legitimate work they can do from home, if and when they might be required to.
Things are looking pretty good in New Zealand right now—but let's face it, the fear that the unpredictable COVID pandemic could have us reeling again is a constant and real concern. 
More and more companies are outsourcing clerical work these days. So, the move to remote data entry clerk can be the perfect solution for the right person, with flexible working hours, and potential for experienced operators to earn around $50k per year. Since this job type lends itself so well to remote work, it doesn't matter whether you live in Christchurch, Auckland, Dunedin, Hamilton, Canterbury or Wellington — you can work from anywhere.
So, What Is Data Entry?
A broad term that can encompass a number of occupations over a hugely diverse range of industries, from healthcare to business, the popularity of data entry agent positions is on the rise.
A Data Entry Operators' job can be varied but is, in essence, to input data, sometimes sensitive in nature, from either paper documents or transcribed from recordings into a company's system. The data could come from multiple sources or divisions of the company and they also may be required to verify or edit the information they are required to input. 
With reporting and file management are often part of the job, this role can be adapted to the industry or the needs of the specific employer. In some jobs, you may cross over into customer support in a hybrid administrative support/customer service representative role.
To become a strong data entry administrator, you will need:
Good typing speed
Attention to detail
Adequate technology know-how
Proficient literacy and numeracy skills
Ability to pick up new programs, such as Excel
Excellent communication skills
High accuracy
Stakeholder management skills
Good organisation skills
Responsible attitude to work
On top of possessing the aforementioned skills in order to do your work well, being able to work from home has its own requirements. It is immensely important to be a self-starter who is easily motivated. It is also crucial to have excellent time management skills and be comfortable working on your own for long periods of time.
Career Pathways
If you're considering making a career out of data entry, there are a few pathways you can consider. People who start off in data entry often progress to roles like Administration Assistant, Receptionist, or Accounts Officer.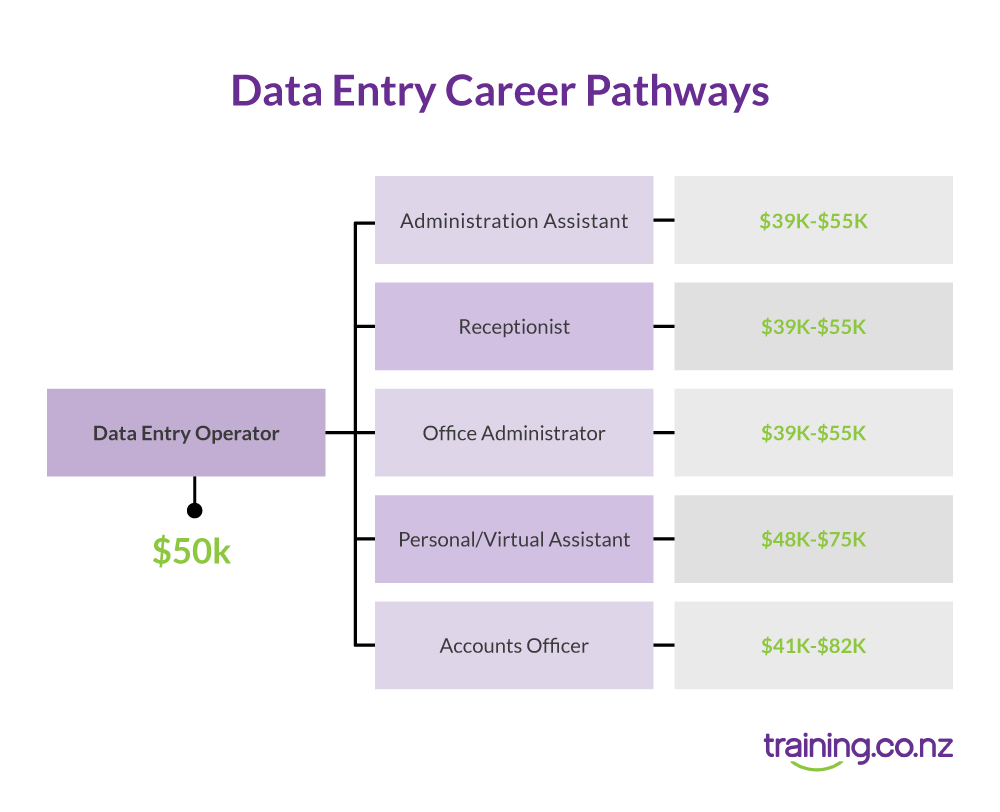 Your Steps to a Data Entry Job from Home
1. Define Your Area of Expertise
With such avenues as word processing, transcribing, translating or payroll data entry, to name a few, data entry can take on many forms. Figuring out the services you are able to provide and where your strengths are will enable you to fine-tune your job search when the time is right.
This decision is up to the individual and would depend on your education, past work experience and future career aspirations.
2. Upskill
Once you have an idea of what you want your data entry career to look like and the direction you want it to take, it is time to start thinking about honing those skills to ensure you are prepared for the role.
With a huge range of administration courses at your disposal, each tailored to finetune your data entry skills to the specific path you want to take, we really are spoiled here in New Zealand. For those interested in heading down an accounts or bookkeeping path, there are specific courses specialising in this area also, making the transition to "at-home data-wizard" super easy.
3. Update Your Resume
As important as ever, your CV is the first impression you will usually make on a prospective employer. Making sure it is looking on-point, concise, informative and up-to-date will ensure you stand out in a crowd.
Check out How to Write a Killer CV and use the free resume template as an option for a fresh look and feel for your new career.
4. Further Preparation
Working for yourself from home definitely has its perks but initially requires a few basic overheads.
Firstly, it is essential to create a home office that is comfortable, and conducive to long hours of fairly repetitive remote work. Choosing the right equipment when you work at home can be the difference between your new career being a success or not, so we recommend paying close attention to your working environment.
We recommend you start with these basics, then add on as you need to:
Good computer (with riser if not at optimum height)
Desk at suitable height
Accounting system (for independent contractors)
Stationary
Diary (digital or paper)
Ergonomic chair
Accounting system (for independent contractors)
Efficient lighting, such as a desk lamp
5. How to Find a Job
Now, you are ready to get that first job!
You could look for a permanent role full-time or part-time, or take on a few smaller job opportunities as a freelancer with flexible hours.
Whichever way you choose to go, we highly recommend making sure your social media presence is up to date. Having an optimised LinkedIn profile is one of the best ways to let the world know you are looking. It is even better if you can have some people you have worked with write a recommendation for you. This avenue can also be helpful to connect with other people in your line of work, meaning you have a higher chance of finding organic, word-of-mouth jobs.
Searching job sites and job boards is so much easier these days with many offering filter systems to refine your search. You can set up job alerts, which send you phone notifications or email alerts to let you know when new job postings you may be interested in have been advertised.
Another avenue some job seekers take is to sign up with agencies for temporary assignments. Although there are pros and cons to working through an agency, it can be a great way to get your foot in the door with some clients or get some entry-level data entry experience under your belt.
In today's job market, with more value being placed on flexibility and autonomy, and a huge range of resources to get you ready, this could be a great opportunity to make your Data Entry career happen.
Ready to join over one-third of all New Zealand employees who work from home? Here's a list of the ten best working from home jobs.
Read the Guide