Published 14 Jan 2021
How to Start Your Career as an Esthetician
---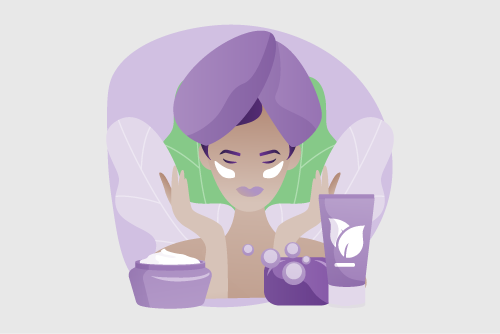 Esthetics is an exciting part of the beauty industry. In this deep dive, learn about the job description, what training is needed and how to get started.
Browse Beauty Courses
A career change can be an exciting, but nerve-wracking time. You can be 100% sure that you want to work in a particular field, but identifying what it is we'd like to do in that field can be another thing entirely! The beauty industry alone holds a massive list of avenues to venture down. But with some specialities merging under a few umbrella terms, it can sometimes be a little confusing. 
An Esthetician is a skincare specialist and is often referred to as a beauty therapist or aesthetician. Estheticians aim to improve the skin's health and wellbeing through beautifying treatments. Although a medical qualification is not required, they hold a vast knowledge of the dermatological systems and specialised skincare or cosmetic procedures.
Imagine going to work every day, and being the expert that loyal, loving clients turn to, entrusting you with the health and beauty of their skin. The fulfilment you can achieve in this role is endless, especially if you love to build relationships with people and make them feel taken care of, pampered, and most importantly, beautiful!
What exactly is an Esthetician?
Have you ever looked in the mirror and wondered about your skin type? Maybe you have thought about optimising your skincare regime? Or perhaps you've considered treating yourself to some non-invasive skin-beautifying treatments? Your first port of call for all of the above would be an Esthetician. 
With a more advanced understanding of the skin than a beautician (internationally known as a cosmetologist), an Esthetician won't diagnose or treat any medical skin conditions but will often refer a client to a Dermatologist or other appropriate healthcare professionals. Estheticians and Dermatologists will sometimes work together in a workplace dedicated to our skin's overall health and wellbeing.
Depending on your workplace setting, as an Esthetician, you will perform services like: 
---
Client consultations and skin analysis
Individual skin treatment plans
Recommend the appropriate skincare products
Microdermabrasion
Chemical peels
Laser hair removal or waxing
Face and scalp massage
Aromatherapy treatments
Body treatments and skin rejuvenation such as masks, wraps or exfoliation scrubs
Makeup application
Chemical peels
Maintain accurate record of each clients concerns, past treatments and results of each treatment
---
As in any salon, day spa or clinic environment, you may be required to assist in the business's administration side — taking phone calls, making appointments, and using your knowledge to recommend specific treatments to clients coming in for the first time. 
With the ability to develop and tailor your specialised areas of expertise, this role can fit in with your passions and interests, making for an enjoyable workday — every day!
Salary expectation and industry growth
The average salary for an in-salon esthetician is between $32,000-$50,000 in NZ, plus tips and overtime pay.
Of course, if you own your own business or branch out in new avenues, there is no ceiling to your earning potential. 
The industry outlook for the beauty industry here in New Zealand is looking to improve over the next few years. With the unforeseen impact that COVID-19 has had the past year, creating a revenue decline, we should see a bounce back to its former economic glory very soon!
In-salon Esthetician pay average between
+ tips and overtime pay.
Source: Payscale
Where can this career take you?
The sky is the limit with a career in Esthetics. You could be satisfied going into the salon day-to-day, seeing your loyal customer base and making them feel amazing. But, there is also an incredible opportunity for career development in many directions!
Here are some:
Specialise

You could specialise in one particular area, like brows and lashes for example, and become the in-demand expert in that field. Focusing on a niche can make you a sought after employee and allow you to charge more for your time.

Go it alone

Another option is to start your own beauty business. An easy profession to start from home, the progression can be as slow or as fast as you like. You can also start building up a client base whilst under full-time employment, meaning a smoother transition. This can be a great option if you want to control your workload, have flexibility with your time and potentially upscale to a full salon, employ staff, and eventually reduce the number of hours you work to accommodate family life.

Teach

For those who love to impart their knowledge, teaching can be a gratifying career. Seeing others flourish in the beauty industry is thrilling, and this can also be a flexible option if you'd like want to keep one foot in the salon or need time to be with family.

Influence

Social media is a big business these days, especially when it relates to wellness. If you have a penchant for social interaction, content creation, and good knowledge of these tech platforms, you could branch out to blogging and influencing. It's another option for those who would like to transition slowly into a new focus and be done alongside other employment.

Branch out

Adding more expertise to your repertoire can be a way to renew your love for any industry. Continuing education in a new skill, like hairdressing or advanced make-up artistry, means you can increase your client base, earn more money, and potentially expand your horizons even further.
What personalities are best suited to this career?
Like any career, there are required personality traits and some that will simply help you thrive in particular environments. Here we look at some must-haves.
---
Friendly and approachable

Not just towards clients, but towards work colleagues, suppliers and other stakeholders.

Social

You will be interacting with people at all times. Although filling every silent moment is not advisable (especially if your client just wants to chill) being warm and bubbly at the right times is vital.

Professional

As with most jobs, acting professionally towards clients and staff at all times is essential.

Organised

Ideally, your diary will be packed with beautiful clients all-day-long, so staying on track time-wise is important.

Detail-oriented

Advising clients of potential skin requirements and being thorough in record taking means you will gain your clients' trust. Consistent attention to detail means they know what they will need next time they see you.

Eager to learn

Advising clients of Techniques evolve and improve all of the time in the beauty industry, so you must have an open mind and be willing to learn from others. skin requirements and being thorough in record taking means you will gain your clients' trust. Consistent attention to detail means they know what they will need next time they see you.

Knowledgeable

Along with always learning, will come a vast knowledge base. You must be trained to a high standard in cosmetology so that a client is confident in the service you provide is safe and appropriate for them.
So, how do you get started?
Although there is no specific qualification required to work as an Esthetician here in New Zealand, beauty school is still a good idea. A diploma or certificate in Beauty Therapy is advised as a great starting point. A formal training program will give you the building blocks for your career as an Esthetician and can open you to work opportunities in the future.
Studying online can be a great option if you wish to retain employment as you learn, and with the opportunity to pay for courses as you go, getting started can be as easy as ever!
The HITO in New Zealand has an excellent apprenticeship programme which means you will earn as you learn.
This last year has been unpredictable and shown us that anything is possible! It has also forced many of us to think about what we want out of life.
Your new career could be just around the corner. In a few simple steps, you can be on your way to your exciting new life and becoming an expert skincare professional.