Published 15 Mar 2021
How to Become a Teacher's Aide in New Zealand: Start a Fulfilling Career in Education
---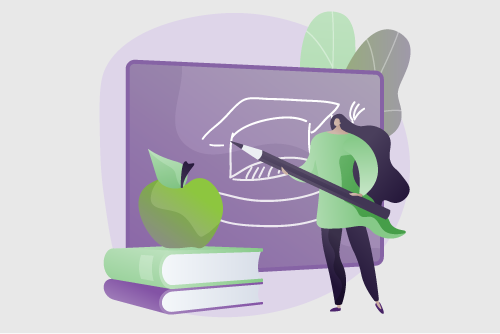 Teacher's aides support classroom learning and teaching by interacting with students, both one-on-one and in small groups. If you're passionate about education and childhood development, being a teacher's aide may be just right for you.
Getting qualified
In New Zealand, there are no compulsory qualifications for becoming a teacher's aide. That said, employers will prefer candidates who have experience working with young people. Plus, like all educators, you'll need to pass a police check.
You can enrol in an entry-level qualification such as a teacher's aide certificate course (which takes 24 weeks). This may be a useful way to learn the required skills and show employers that you're dedicated to being a teacher's aide. In a course, you'll learn about:
Important communication skills to interact effectively with students
Leadership in educational settings
Teaching methodologies
Different learning styles and strategies
Catering to different learning needs and behavioural challenges
---
The New Zealand government also recommends teacher's aides have a minimum of three years of secondary education. Subjects such as English, health education, languages, maths, and te reo Māori are particularly useful.
How long does it take to become a teacher's aide?
You can get certified to be a teacher's aide in 24 weeks. It's theoretically possible to become a teacher's aide straight away, since there are no formal job requirements. It can, however, be a competitive job to get into. Taking another pathway could take at least the amount of time you'd spend getting qualified.
Reasons a job as a teacher's aide is highly desirable:
---
It's flexible

The work hours fit well with family responsibilities, and there are many part-time and full-time opportunities.

There's a low barrier to entry

It's suitable for people with a range of different backgrounds.

It's high-impact

You can make a positive difference in children's lives.
---
One pathway to entry is to take a teacher's aide certificate course or other educational qualifications. You could also gain experience working with children and young people by working in related areas such as child care or tutoring. Another option is to volunteer to coach a children's sporting team or run after school activities like art classes or scouts.
What does a teacher's aide do?
A teacher's aide helps teachers prepare class resources and interact with students — one-on-one or in small groups — as they go through the classroom teacher's lesson plan.
They also offer assistance to specific students who require it, such as making sure children take their necessary medication, catering for special needs, literacy and numeracy support, or helping ESL students with any language barriers they encounter.
They may help the classroom teacher plan lessons to include all students and cater to different needs. They also may play a role in helping students with physical exercise and physiotherapy. 
It's a role that makes classes run more smoothly, increasing learning opportunities, learning support, and inclusion. 
Teacher's aide vs education support worker
Generally, in New Zealand, an education support worker has a similar function to a teacher's aide, but in an early childhood setting — such as in kindergartens. 
About 67% of teacher's aides work in primary and intermediate schools, with others working in high schools and special schools. They work in both public and private schools.
The terms 'teacher's aide' and 'education support worker' are often used interchangeably and in different ways, depending on various organisations and roles. 
How much does a teacher's aide make an hour?
Teacher's aide pay can vary depending on experience.
---
Professional development
As you gain experience as a teacher's aide, you may learn about certain specialisations or roles and want to take on new challenges. You may also like to go on to further study to pursue related careers such as:
Education support worker
Special education assistant
Teaching
Education or disability and inclusion consulting
Educational psychologist
Though there may be low formal barriers to entry, it can be competitive to get a teacher's aide job. But with some time, and dedication, working as a teacher's aide is a high-impact career with great flexibility and potential for work/life balance.
---