Published 19 Nov 2020
Childcare from Home: How to Set Up Your Home-Based Childcare Business in NZ
---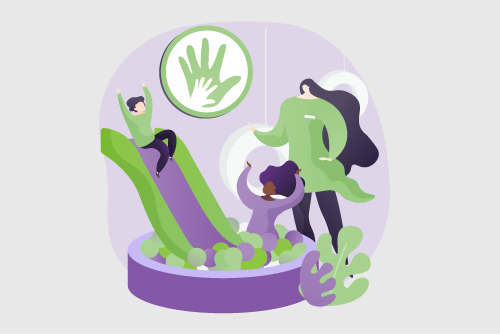 Are you interested in starting up your own home-based childcare business? If you're tired of sitting at a desk, home-based childcare could be the perfect fit for you — offering you the opportunity to get back to real, fulfilling work, all from the comfort of your own home. 
Once you've worked at a desk for a while, it's easy to lose the passion that got you the job in the first place — you're sick of the morning commute, tired of the work and your ergonomic chair just isn't doing it for you anymore. If this sounds like you, it might be time to step away from the desk and start something new. 
If you're a people-person looking to find a new, exciting job that will look different every day, but will still provide you with the flexibility of working from home, home-based childcare work could be everything you're looking for.
Now, you might not have ever heard of home-based childcare before. Home-based childcare doesn't look like a traditional job, and you definitely won't be sitting down at a desk every day — but that's exactly what you're after, right? Something new, something fun, something different and most importantly, something fulfilling. 
If you want to learn more about home-based childcare careers, this article has all the answers you're looking for. Find out what this career path could look like for you and discover how you can set up your own at-home childcare business in New Zealand. 
What Is Home-Based Childcare?
Home-based childcare is similar to commercial childcare centres that offer early learning and after school programmes. The real difference lies in the location; home-based childcare is an at-home service, operating entirely from a personal residence.
It's kind of like a family daycare service that offers effective early learning programmes. The family home your childcare service operates from depends on the preferences of you and your client.
---
In New Zealand, home-based childcare is the fastest growing form of Early Childhood Education (ECE), with 95% of children in New Zealand being provided with at least some kind of ECE for 20-22 hours a week before they reach primary school. 
Benefits of At-Home Chilcare
As an ECE provider, you can offer a more personalised and trustworthy service with home-based childcare. In comparison to centre-based ECE, home-based childcare caters to small groups.
This means you can provide children with personalised, one-on-one learning programmes, which is much more promising than wider-scope teaching programmes that are offered in traditional child care settings. When parents are deciding on their child care options, this is a huge plus.
On top of that, home-based childcare is full of a whole range of other positives that will benefit you, your client and their children. Embrace benefits like:
---
Flexible hours
Lower running costs with a childcare subsidy
High-quality childcare that's personalised
Comfortable working conditions in a home environment
Personal relationships with the families you work for
---
If you're a people-person, this kind of career is much more personally fulfilling than a traditional office job. In-home care can be even more fulfilling than commercial, centre-based childcare, providing you with the opportunity to get to know your clients and give back to your community. 
What Will Your Day-to-Day Life Look Like, On the Job?
As a home-based caregiver and early childhood educator, your day-to-day routine is going to look completely different each day. It's one of the best parts of the job. Say goodbye to the same old morning commute; in this kind of career, you'll be meeting new people and learning new things. 
In terms of duties and responsibilities, you'll typically be:
---
Creating a learning environment that will encourage child development
Making sure there's adequate equipment for your programme
Managing supervised activities
Ensuring health and safety protocols and first aid measures
Supervising, observing and monitoring children throughout their learning journey
Keeping up to date with your own professional development
---
If you're running your own home-based childcare business, your day-to-day schedule is really up to you. You can easily transition from a full-time office job, and start your new childcare business, working full-time from home.
If your lifestyle is changing because you're studying part-time or looking to have your own children, you can readjust your schedule and work part-time. This kind of career is much more flexible than your traditional 9-to-5.
How Do You Set Up a Childcare Business from Home?
If you want to start working from home as a home-based childcare provider, you have to decide which career path you want to take. You can either work for a larger network or start your own home-based childcare business.
You might want to work as a contractor for a larger network for safety and security; if you're transitioning from a traditional office job, this might feel like the safer option.
But in reality, starting your own childcare business doesn't have to break the bank! Home-based childcare can provide you with a completely stable income: in New Zealand, you're paid $6.80 per hour per child, and you can care for four children at a time. That adds up to $27.2 per hour. Plus, you get the bonus of working for yourself — finally, you'll get to be your own boss.
To start your own home-based childcare business, you'll need to:
---
Study up and get qualified according to national quality standards
Write up your policies, processes and procedures according to the licensing criteria
Apply for a license
Consider the equipment and resources you need to meet curriculum requirements.
Organise your enrolment fees and funding
Make sure you meet all health and safety requirements as an ECE provider, including accident prevention and emergency plans
What Qualifications Do You Need for Childcare Work?
In New Zealand, home-based early childhood teachers and childcare providers are required to meet qualification requirements per the New Zealand Department of Education.  
---
---
NZ Home-based childcarers are now required to have, at minimum, a Level 4 qualification as an early childhood educator. While only about 30% of home-based carers had early childhood education qualifications before 2019, that number is now up to 100%. 
---
If you're worried about maintaining your work schedule while you study, there's no need to stress. There's a whole range of part-time online courses that are totally flexible, and you can enrol anytime. 
If you're working for yourself, you can also tailor your working calendar to match your study schedule. Meaning, yes, you can keep making money throughout your studies — and no, you won't need to live off instant noodles! Studying ECE part-time will help you decide if home-based childcare is the right fit for you before you take the plunge.
Your career should reflect who you are – and you're more than just a desk worker. If you're a people-person and ready for a change, home-based childcare could be just the right fit. Step away from the desk and into an entirely new direction, full of flexibility and opportunity. 
Home-based childcare is more than just a job – it's a chance to learn something new every day, give back to your community with quality education, and most importantly, have fun while you do it.
Embrace the change and start your journey today.
Everything you need to know about working from home, from the best jobs to the rewards.
Learn More