Published 25 Jun 2021
How to Become an Office Administrator in NZ: Salary, Job Description, and What to Expect
---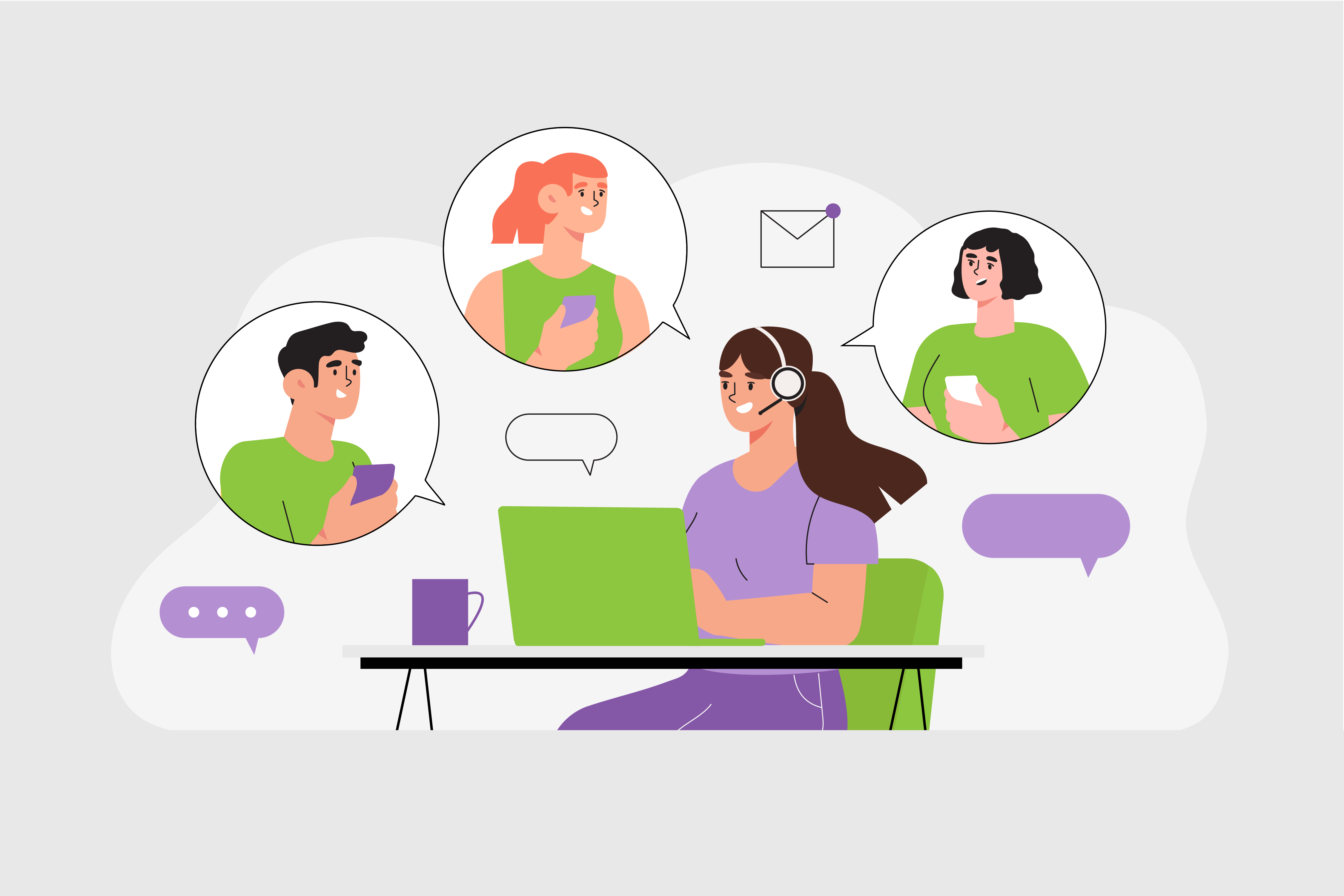 Office administrators are essential members of any well-run business. With flexible work opportunities and no formal entry requirements, office administration is perfect for anyone looking for a stable career path. 
An office administrator executes and oversees most (if not all) administrative functions within a business. They often work across departments and are generally "in the know", ensuring the smooth running of all daily business operations. 
Depending on the size of the business you choose to work for, you may work solo or within a larger administration team. Working within a team will see you supervise junior employees while working predominantly within office support of upper management coordination. Working solo, however, will see you take on all administrative support responsibilities, albeit on a smaller scale. 
In this role, you will generally work standard business hours of 9-5 pm, Monday – Friday, within an office environment. However, there are many part-time opportunities and evening or weekend work if you need more flexibility. 
Responsibilities and skills
Office administrators need a broad range of skills to fulfil all office management responsibilities properly. The core responsibilities of any office administrator include:
---
Organising files and report documents

Organise and schedule all correspondence

Answering and scheduling emails and phone calls

Conducting research and collating information for reports
Scheduling and organisational duties (incl. internal and external meetings)

Managing the office's calendar and core materials (like office supplies)

Arranging any travel or events plans

Basic bookkeeping, payroll and spreadsheet maintenance
---
Effective administration is essential to any well-run business, so office administrators must have a diverse and robust skillset to support their work. Some critical skills include:
---
Computer literacy (Excel, Microsoft office suite, email)
Phone and email etiquette

Basic accounting and bookkeeping (MYOB and Xero)
How to become an office administrator in New Zealand
Although there are no formal qualifications required to land an office administrator job, you can do some essential things to develop the right skills and boost your employability.
---
1. Complete a business administration Certificate or Diploma
Choosing to study a formal business administration qualification will provide you with the right skills to tackle a more senior administrative role with confidence. This type of course can also prepare you for similar roles within business administration, such as a receptionist. Alternatively, if working from home is attractive to your lifestyle, becoming a virtual assistant is also a possible career pathway. 
With most courses offered online, completing a qualification doesn't have to disrupt your daily life. Instead, with constant access to course materials and self-paced learning, your course becomes customisable to fit your prior responsibilities and commitments. 
Most courses can be as short as four weeks of full-time learning, or you can choose to study part-time for up to 18 months.
---
2. Become a member of the Association of Administrative Professionals New Zealand (AAPNZ)

AAPNZ offers multiple professional development opportunities that can support steady career progression for office administrators. 
Office administrator salaries
A typical salary progression for an office administrator is:
---
1 to 3 years of experience
over 3 years of experience
Office Administrator versus Office Assistant

Office assistants and office administrators are often mistaken for one another. It's important to understand the difference between the two, so you can gauge which role suits your career goals best.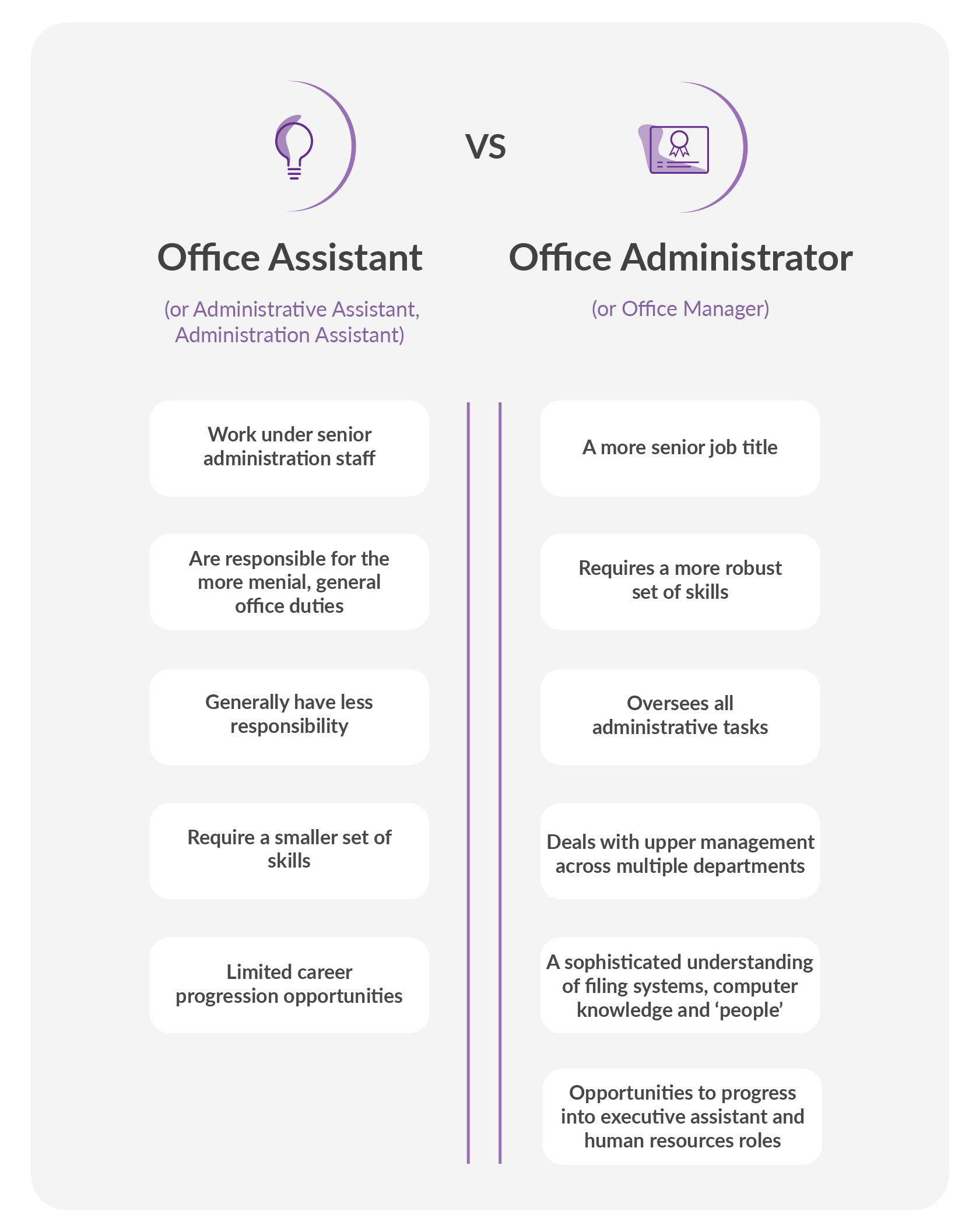 What to expect in this career

Office administration can look very different depending on who you work for and in what industry. However, core career qualities remain consistent no matter the environment you choose to pursue work. 
---
Positives
Good skills development

Diverse in its responsibilities, resulting in the development of a broad range of skills

Learning opportunities

A strong understanding of business operation standards and how these can and should work will develop. This is incredibly valuable no matter which career path you choose to pursue

Social

Social in nature, being an office administrator encourages you to form relationships with coworkers, clients and managers.

Flexible

The work can be very flexible and offers excellent opportunities for work-life balance.
Challenges
A high volume of responsibilities and tasks

Prioritising the correct tasks, people to communicate with, and responsibilities can become overwhelming during busy periods — particularly if you work in a small team.

Organisation is critical

Always maintaining a high standard of organisation is imperative to office administration success.

You must be proactive

Career progression can be vague if you're not willing to manage upwards and proactively strive for more (a promotion, raise or transfer)
---
Stepping into an administrator role doesn't need to be tough nor complicated. With the right attitude and core skills, you can be on your way to the flexible but stable new job you've been looking for. To take the next step, enquire about office administrator courses in New Zealand now.