Published 15 Sep 2017
How Will the General Election Affect Training and Education? Your Guide to the Parties
On February 1st 2017, little over a month into his leadership, New Zealand Prime Minister Bill English announced a general election would be held on September 23rd, setting in motion seven solid months of campaigning.
If there is anything the past few years have taught us about politics it's to expect the unexpected: from Brexit to Trump, political surprises are the new normal, and New Zealand isn't alone in that regard. The primary challenge to Bill English and the conservative National Party comes from Jacinda Ardern's centre-left Labour Party: Ardern is only 37, the youngest leader of the party in its 100 year history, and its second female leader. All the more surprising is Ardern has only lead the party for a month, yet has greatly increased Labour's prospects of winning, or at least preventing a National Party majority government – 'Jacindamania' has almost mirrored 'Corbynmania' in the UK in terms of renewed excitement in the Labour Party.
---
Ardern and English both offer the electorate a very different brand of politics. Jacinda Ardern is liberal on social issues, from same sex civil unions and abortion, to euthanasia and medical marijuana; English is a social conservative and a committed Roman Catholic. English represents a continuation of the status, while Arden says she will make a radical break with it. The one issue where Labour and National transcend typical left/right politics is immigration: Labour are committed to reducing it, while the Nats are strongly in favour of using it to drive New Zealand's economy.
But where do the political parties lie on issues regarding education, training and careers? This article explores the policies on offer, and how they will affect your opportunities and prospects, whether changing careers, upskilling or entering the job market for the first time.
The Labour Party's ambitious goal of free tertiary education or training certainly seems to be a vote winner, particularly among younger voters – New Zealand has the seventh-highest fees in the developed world. However while Labour pledge to begin this process from January 1st 2018, three fee-free years of tertiary education or training won't be in place until 2024. Instead, from 2018 students will be entitled to one free year of study.
Make the first year of tertiary education or training fees free from January 1, 2018.
Increase student allowances and living cost loans by $50 a week from January 1, 2018.
Abolish the cap on loans for post-graduate students.
The policy isn't just aimed at prospective university students – it will also apply to students in apprenticeships, industry training or studying at a polytechnic, and is "available for anyone who has not previously studied at tertiary level and can be taken throughout their life." This is great news if you are looking to study later in life, or want to upskill or change career: it means it's never too late to take that course you've always dreamed of.
---
There Are
young people out of work and education in new zealand
---
A central part of Labour's immigration policy also centers on education, including limiting the number of granted Student Visas and putting stricter terms on who can apply for a Post Study Work Visa. International students will not be able to work alongside their studies unless they are studying at a Bachelor-level or higher, and this rule may also be used to deny some prospective international students of a Student Visa entirely. All of this is combined with a commitment to create opportunities for the "90,000 young people who are not in work or education" in New Zealand, through training and a new apprenticeship scheme.
---
National Party
---
The Nats don't have very much to say about tertiary education or training in their manifesto: they will raise the accommodation benefit by $20 per week for eligible students in Auckland, Wellington, and Christchurch, and do not plan to reinstate the postgraduate student allowance they previously scrapped, as Labour and a number of smaller parties plan to.
---
The Nationals Pledge to create
apprenticeship and training places
---
In other policy areas the National Party do mention training, for example a pledge to fund "8,000 more apprenticeships and trades training places across the country over the next four years" as part of their housing plan, raising the overall number to 50,000.
The party is also opposed to Labour's policies on international students, which they say will have a negative impact on New Zealand's economy, and free education.
---
A poll conducted by Newshub suggests Education is a lower priority among National Party voters. It is highest with supporters of the Greens, at 14.6%.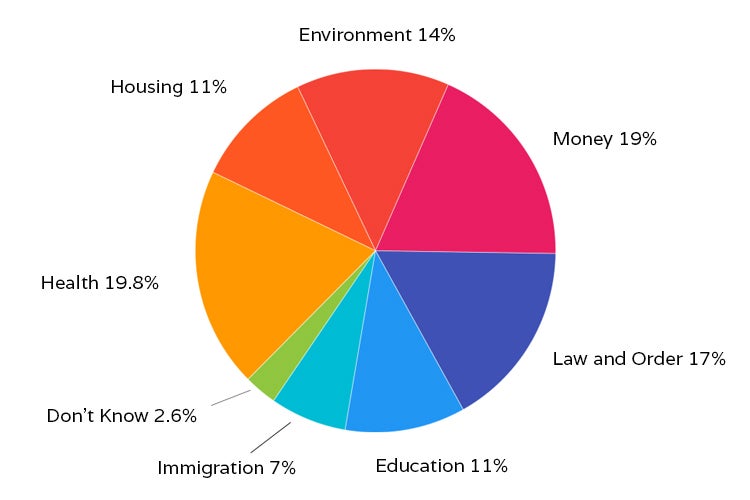 ---
While the election is undoubtedly being fought between Bill English's Nats and Jacinda Ardern's Labour, there are a number of other parties to keep an eye on, as it's highly likely that the result of the election will be a coalition government of some form with one or more of these parties.
---
Māori Party
---
The Māori Party are concerned with the needs and interests of the Māori people, but their education policy has a wider appeal:
---
Increasing the accommodation supplement by half for all tertiary students
Introducing a universal student allowance
Providing free public transport to as tertiary students
Retaining interest-free loans
Reducing the repayment levels on a student loans
---
As far as educational issues affect the Māori community specifically, the Māori Party intend to:
---
Develop a four year zero fee scholarship to target the 'First in Whānau' to engage in a Bachelor level qualification programme
Double the numbers of Māori and Pacific students successfully completing a Bachelor degree in three years
Double the existing Māori and Pacific trade training and cadetships placements per annum for the next five years
Establish tuakana/teina mentoring and coaching initiatives that encourage a seamless transition from secondary to tertiary education
---
NZ First
---
NZ First are a populist party led by Winston Peters, who generally take a right-wing position on economic and social issues, particularly immigration, which they wish to limit to 10,000 per annum. However, they can be difficult to truly pigeonhole, for example while they support cutting taxes, they oppose privatising public services and wish to renationalise public services that have been put into private ownership. This is highlighted by the fact an NZ First-Labour coalition is a real possibility, and one that polls show is popular among voters.
---
Actively support secondary schools and tertiary providers to provide quality pathways and stair-casing for Level 2 through to full Level 3 and 4 qualifications through fees-free places alongside a move away from delivering employment based training under the Youth Guarantee Scheme
Encourage strategic alliances between industry crown research institutes and tertiary institutions to increase the number of scholarships and government funded research grants available to graduates, universities and employers
---
Green Party of Aotearoa New Zealand
---
New Zealand's Green Party have held a record number of 14 MPs in the House of Representatives since 2011, but some recent polling shows that the 2017 election may find them out of Parliament. With Labour under Ardern focusing on policy areas that were once key for Green support, and internal party conflict, support for the party has fallen dramatically. Despite this, the Greens performance could be very important is deciding whether the Labour Party is able to form a government, so it is worth taking a look at their education policy.
Like Labour, the Greens are also committed to eventually achieving free tertiary education in New Zealand, "including trade training and apprenticeships." This will be achieved by introducing a free cap which is 'progressively' reduced.
---
Whoever wins enough votes to form a government after the 23rd, it's clear the interests and needs of those in or thinking of tertiary education or training are a priority of almost all political parties in New Zealand. Whether making tertiary education more affordable, or increasing the number of training courses, there is something on offer for all – just remember to vote on the day!